As businesses set their sights on global expansion, merchants have taken to the trend of employing a multi-distribution channel model comprising of leveraging e-commerce platforms and launching independent sites to expand their businesses. However, integrating these channels can be overly complex, and merchants may face difficulties getting support from their respective platforms.
Furthermore, some sellers likely to choose a third-party agent to open his global store because they're not familiar with the process and want to save time, but this situation is often charged with many unnecessary expenses and is not safe, sellers may face a high store opening handling fee, extra service fee of cross-border logistics and collections, etc. At the same time, the post-sales services are not guaranteed, such as there's no one-on-one customer service team to solve any inquiries may have.
These challenges continue to bedevil the development plans of businesses and significantly reduce the effectiveness of their expansion plans.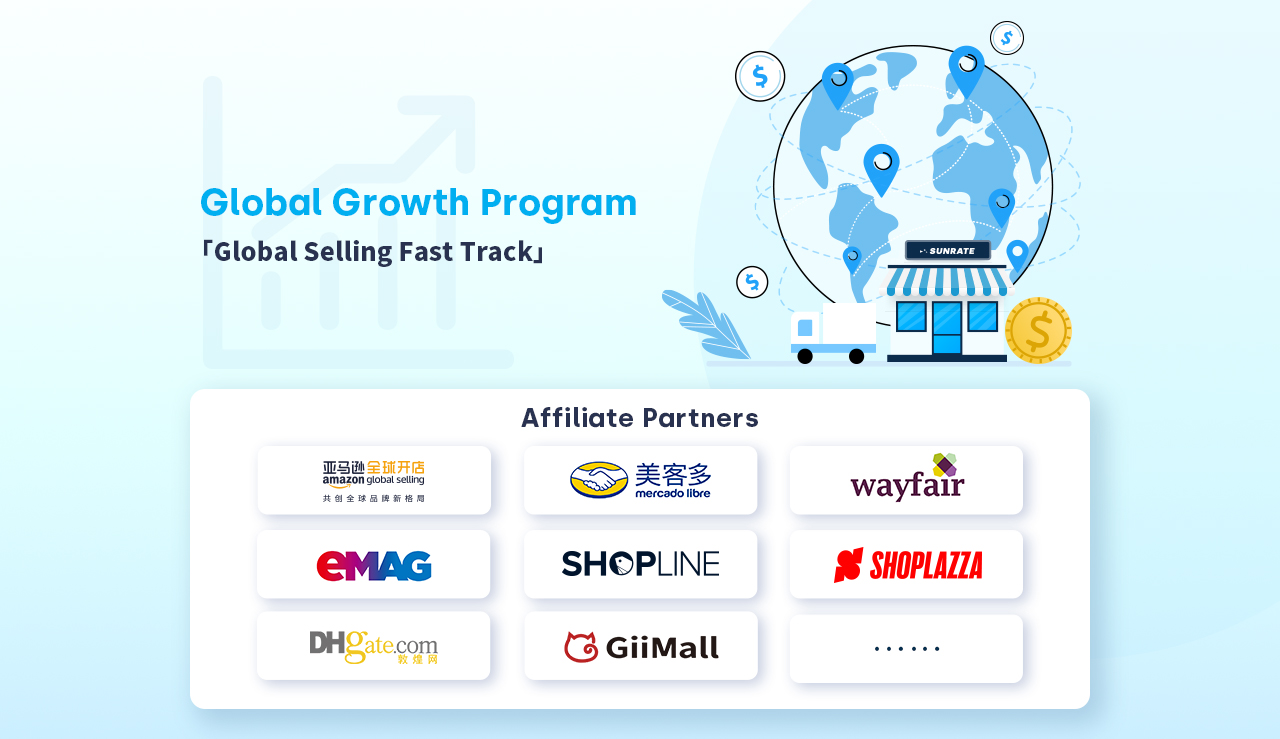 SUNRATE's Global Growth Program
Since its inception in 2016, SUNRATE has built a comprehensive product matrix with our FX capability at its core, accommodating a rich variety of scenarios through our SaaS product to nurture an industry leading digital eco-system built on flexible and secure payments.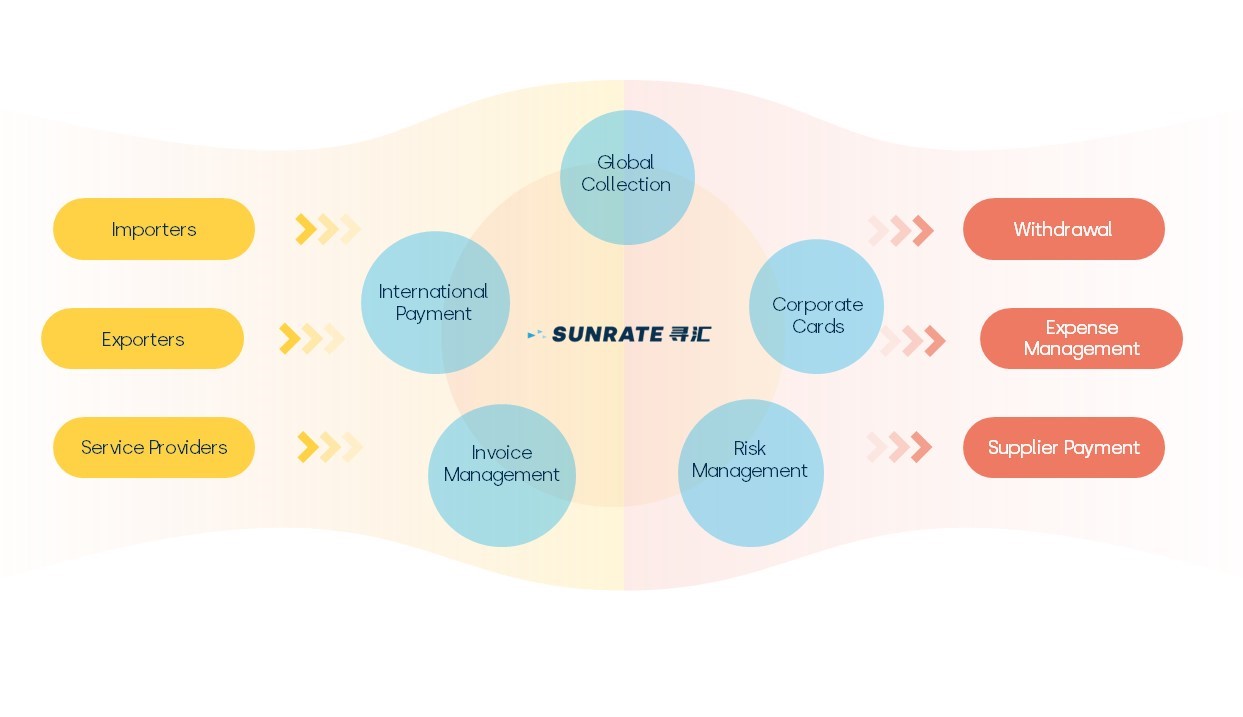 In order to help businesses, reduce cost, improve efficiency, and expand more rapidly, SUNRATE has launched its Global Growth Program, of which the Global Selling Fast Track Initiative is the first of many initiatives, to help businesses gain access to the vast range of business opportunities in the global market.
Global Selling Fast Track:
Through SUNRATE's collaboration with best-in-class industry partners, our channel offers an express route for businesses to set up online stores across multiple e-commerce platforms. Building upon SUNRATE's robust underlying architecture, we have gathered registration channels across multiple e-commerce platforms and consolidated them on a single page, affording businesses the ease of setting up a store with just a click.
Through integration with some of the world's most popular mainstream e-commerce platforms, SUNRATE offers a consolidated operational funnel for businesses to set- up their online stores for free. Armed with all the requisite business information, businesses are just one click away from reaching buyers from all over the globe.
Dedicated 1-to-1 Guidance
While having a rich variety of e-commerce platforms to choose from, each platform might have its own distinct set of operating procedures and processes. As such, merchants often baulk at navigating this labyrinth of procedures with little to none dedicated support. By leveraging SUNRATE's platform, merchants can easily be paired with official account representatives from respective platforms to receive support throughout the entire onboarding process.
Easy, Effective, One-Stop Shop Solution
Apart from dedicated support from official representatives, SUNRATE's intelligent digital service can be integrated with our exclusive partners' platforms in order to create more value for merchant's end-to-end collection needs. By integrating with their chosen platforms, merchants can manage their collections easily through SUNRATE's collection account management, providing ease of use for subsequent transactions.
Helping businesses expand their global footprint in an effective and secure manner lies at the heart of SUNRATE's mission. We are constantly looking for new ways to expand our Global Growth Program through new and innovative products and services. We invite all industry peers who are interested in our Global Growth Program to reach out through our website cn.sunrate.comfor more details.